Paper is the most amazing medium. I am obsessed with the stuff. I have made paper by hand. It is painstaking, but really, it is nothing more than plant fibre and water! From such humble materials anything can be made. It can be strong or flexible, opaque, colourful, patterned, or transparent, thin, and delicate. I love seeing all the art that can be made with nothing more than a trusted pair of scissors or a sharp, sharp knife. Paper cuts have a long history in many cultures including Chinese as well as the papel picado folk art of Mexico.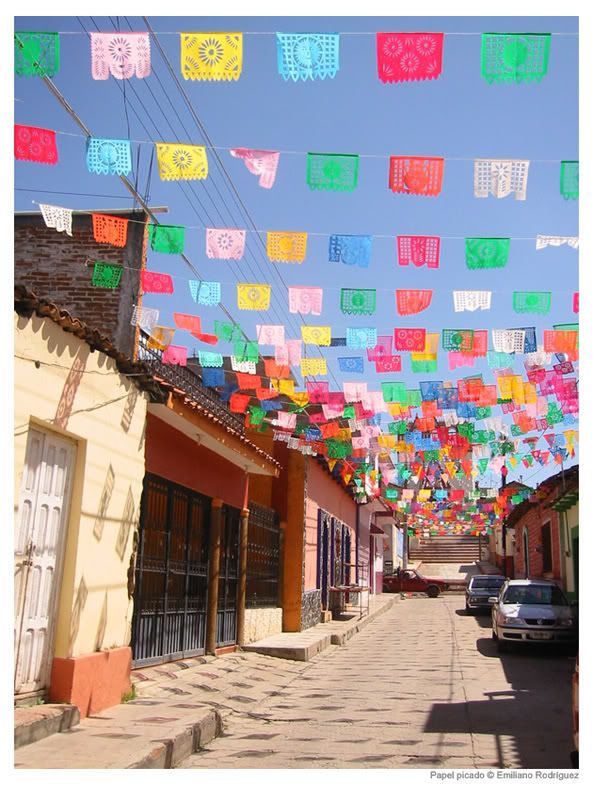 One of my favorite paper artists is Elsa Moro (
main blog
,
paper cutting blog
,
etsy
), or Elsita. She is a Cuban-born, LA-based artist, mother, avid blogger, and genuinely delightful person. She works in a variety of media, and her paper cut work blows me away.
Inner Thread
The Wound
Girl with Bird Mask
And the paper sculpture is incredible. Consider Girl Bird:
or Bee:
Everyone knows England's
Mister Rob Ryan
, but his work is so brilliant I will repeat it here:
How could I resist the incorporation of typography in paper-cut illustration!
New York-based, Hungarian artist
Andrea Dezsö
creates some spectacular illustration and book art. These works combine paper cut in layers with interactive LED lighting:
The Day We Changed Our Lives Forever /left: Mushroom Forest,
middle: Devil's Den, right: We Play.
Cut-out, hand sewn paper tunnel books with interactive LED lights. (LED engineering: Sandy Chen)
I could spend days exploring that portfolio!
Armed with nothing more than construction paper and n exacto knife, Miami artist
Jen Stark
became a bit of an internet phenomenon. Ubiquitous in the blogosphere, she gained a name in the art world, for her simple, geometric, but ebullient paper cuts or paper sculptures.
The sheer scale of
Chris Natrop
's work, as well as the interplay of light and shadow are staggering.
AND FURTHER THE DEWDROP FALLS
55 x 36 x 14 feet
cut paper with watercolor, glitter and magic string; cut acrylic sheet; HD video projection
2008
site-specific installation
MOCA Jacksonville, Jacksonville, FL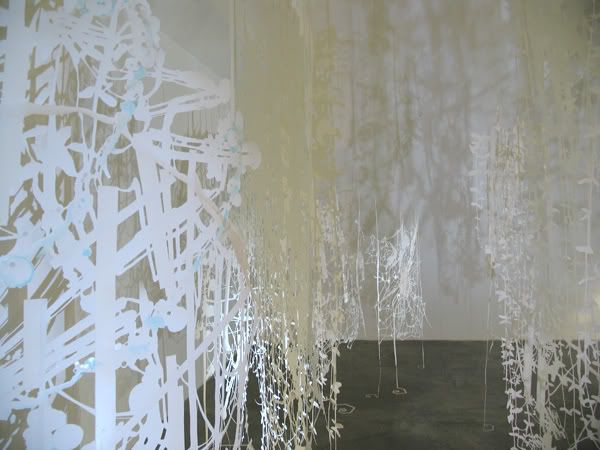 INTO THE SILVER SEE
(LANDING NOWHERE ELSE)
20 x 20 x 14 feet
watercolor, iridescent medium, green tea, tape on cut paper with thread and nylon netting
2006
site-specific installation
Bank, Los Angeles, CA
Canadian artist
Ed Pien
, born in Taipei, combines eastern and western influences in his work. This piece shows life-sized figures crouching in a tree.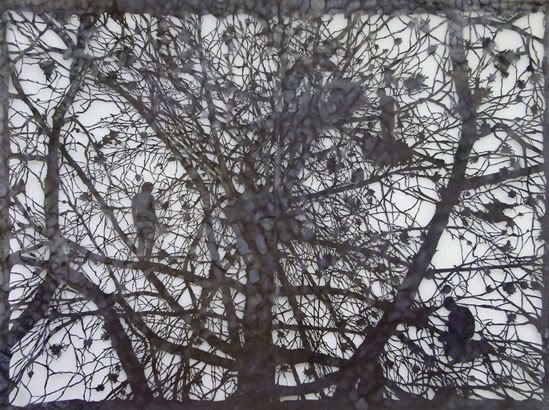 Nest
2008,
ink on 3M reflector and shoji paper cut,
137 x 183 cm
Check out Japanese artist
Kako Ueda's
Memento Mori style paper cuts.
Eros and Thanatos - detail
hand-cut black paper, site specific, 78 inches by 68 inches, 2008
or works somewhere between 2D silhouette and 3D sculpture like Totem - hand-cut red paper, thread, string, collage, bottles, coloured pencil (2008):