Artist Tenmyouya Hisashi
takes traditional Japanese art, modern culture, graffiti tags and Japanese typography, Western stereotypes about Japan and makes a heady mix. These are some of my favorite things.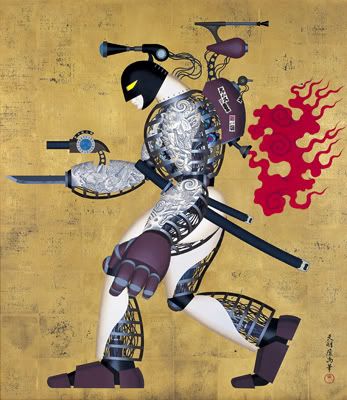 Japanese Spirit #13
2000
Acrylic, Gold leaf, Wood
106.5×91cm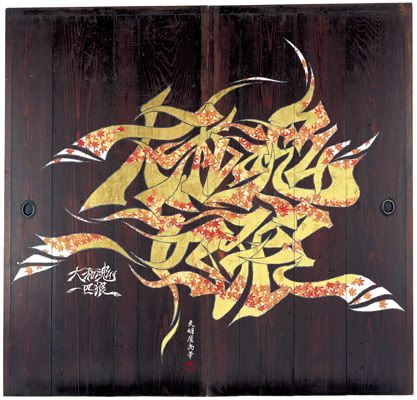 Kanji Maple Leaves Graffiti Cedar Door Painting
2000.10
Acrylic,Gold leaf,Ceder panel door
185.4×177cm
What if Japanese graffiti artists used
kanji
(characters, rather than
romanji
- transliterated Japanese in Roman characters)?
Tattoo Man's Battle
1996
Acrylic, Wood
60×41.3cm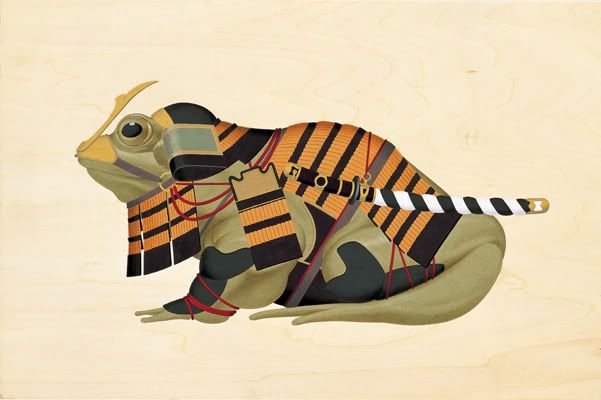 A Tree Frog Pretending to be a 'Warlord Frog' (Leopard Frog)
2002.9
Acrylic, Wood
20.2×29cm
A think the samurai frog is the coolest thing ever.
RX-78-2 Kabuki-mono 2005 Version
2005.3
Acrylic, Gold leaf,
Wood
200×200cm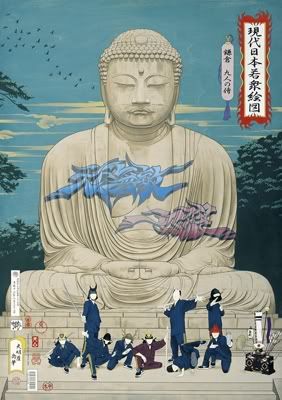 Nine Kamakura Samurai
2001.8
Acrylic, Wood
59.8×42cm
Tenmyouya Hisashi
writes,
I created these works in 2001 for the exhibition, "One Planet under a Groove: Hip Hop and Contemporary Art," which began at the Bronx Museum and went to various other museums in the United States. This could be called the ukiyo-e version of the "Japanese Spirit" series. These images were conceived especially for the eyes of non-Japanese viewers. Both of these works were published in the monthly magazine, "GETON!," and after the publication of "Kamakura Nine Samurai," the Great Buddha in Kamakura was actually defaced with spray-painted graffiti. This crime may have been committed by someone who saw my work in the magazine.
I've had the great pleasure of visting Kamakura, including the
Daibutsu
or giant Buddha. You can even go down a set of stairs and inside of the sculpture itself- in the belly of the Buddha. The fascinating thing is that it is covered in graffiti, on the inside... dating back centuries. The earliest one I found was dated seventeenth century.