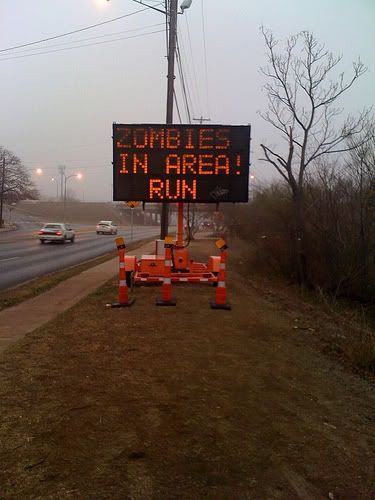 So, I was thinking about zombies. Why? Don't ask why. Perhaps it was the delightful photos posted by the
Wooster Collective
last week. A couple of city construction road signs were hacked near UT Austin, warning residents, "Caution! Zombies Ahead!!!", "Nazi Zombies! Run!!!" and so forth. A great hack. Anyway, this gives me an excuse to recommend that you check out the portfolio of
Mike Bertino
(and
blog here
). He seems to love a good monster scene: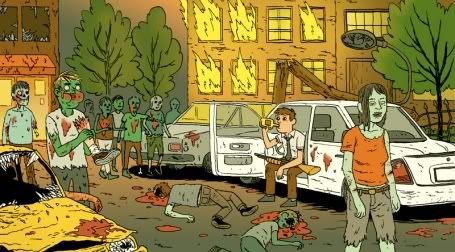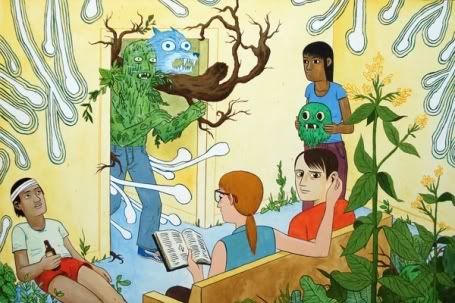 A lot of his work is layered, with great lines and vibrant colours.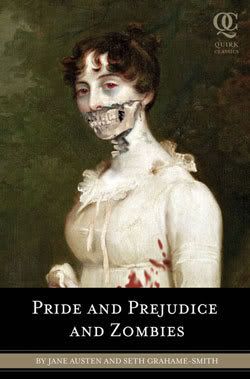 Clearly zombies have a great deal of presence in popular culture - in visual arts, be it film, comics, or illustration, as well as a recent upswing in zombie self-help guides. What about literature? Well, for the Jane Austen fan (if not
too precious
), I read on
bioephemera
about an
upcoming book project
billed as "The Classic Regency Romance—Now with Ultraviolent Zombie Mayhem!" The author, Seth Grahame-Smith, might be on to something. I think of my friends and ask, "Do they love Jane Austen? Are they obsessed with zombies?" and I must answer both of these queries in the affirmative. The blurb says:
Feisty heroine Elizabeth Bennet is determined to wipe out the zombie menace, but she's soon distracted by the arrival of the haughty and arrogant Mr. Darcy. What ensues is a delightful comedy of manners with plenty of civilized sparring between the two young lovers--and even more violent sparring on the blood-soaked battlefield as Elizabeth wages war against hordes of flesh-eating undead.