Thursday, November 25, 2010
This one is just
true.
Comic by
Grant Snider
via
drawn
.
Posted by

minouette
at 2:36 PM
0 comments

Tuesday, November 16, 2010
Yes, the crystalline shapes in bold colours are still definitely in. Can't go wrong with forest creatures, like foxes and owls, or fungi. Little houses go over well. We've seen these elements before, but there's something magic in LA artist
Linda Kim
's work.
Check it out.
Wanderlust
, acrylic on canvas, 20 x 16"
The Fountain
, acrylic on canvas, 8 x 8"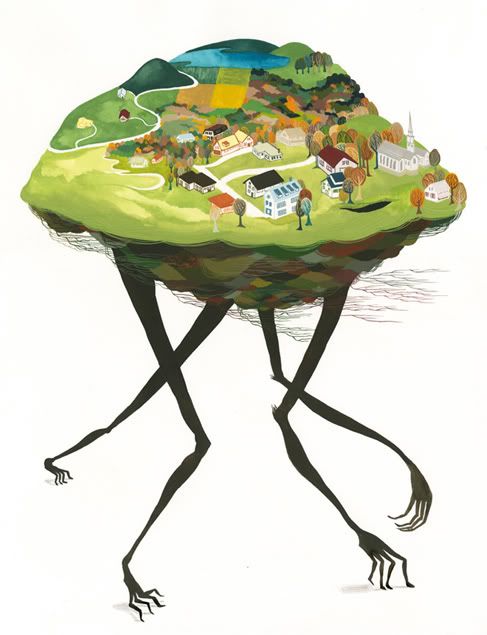 Sleepy Town
, gouache on rives bfk, 22 x 16.5"
In search of
, drawing
Posted by

minouette
at 5:25 PM
0 comments

Thursday, November 11, 2010
In Flanders Fields
In Flanders fields the poppies grow
Between the crosses, row on row,
That mark our place; and in the sky
The larks, still bravely singing, fly
Scarce heard amid the guns below.

We are the Dead. Short days ago
We lived, felt dawn, saw sunset glow,
Loved and were loved, and now we lie,
In Flanders fields.

Take up our quarrel with the foe:
To you from failing hands we throw
The torch; be yours to hold it high.
If ye break faith with us who die
We shall not sleep, though poppies grow
In Flanders fields.
-John McCrae, 1919
Posted by

minouette
at 10:05 AM
0 comments