Next week, we begin
Bike Month
. I rode my bike to work today. Good way to get some exercise. Get out any aggression making sarcastic comments to drivers who can not hear you. It's green and it's free (once you have the bike of course). Anyway, I noticed that bikes seem to be in the public consciousness.
Poppytalk
blogged about the limited edition mini paintings by Christine Schmidt of
Yellow Owl Workshop
. This one (4.5"x3.25"):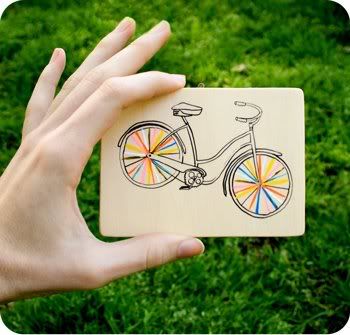 is available
here
.
And this one: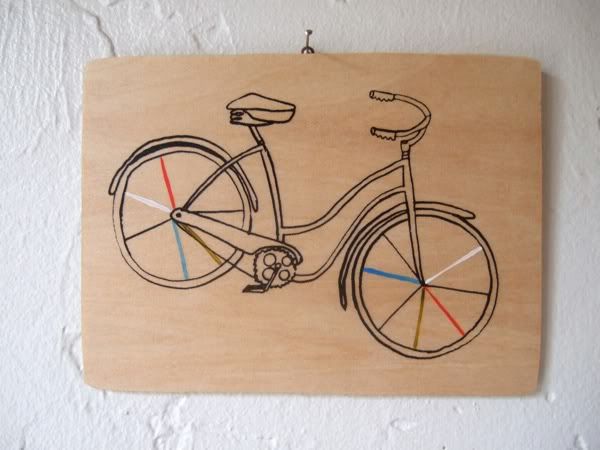 Bicycle
Acrylic on wood panel, 4.5 x 3.25 inches
Copper hook for wall hanging
Signed + presented in gift box
is on the
Yellow Owl Workshop
site.
My love for you is a stampede of horses
blogged about some new bicycle-themed prints by
Brainstorm
:
Go Ride A Bike
2 color silkscreen - 19" x 25"
Printed on French Construction
Limited Edition of 40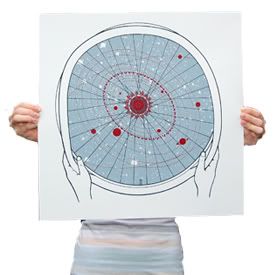 Celestial Tire
3 color silkscreen - 19" x 19"
Printed on French Poptone
Limited Edition of 29
I love this quilt by Linda Varekamp, one of the
2009 winners for the Toronto Annual Bike Winter Art Show
: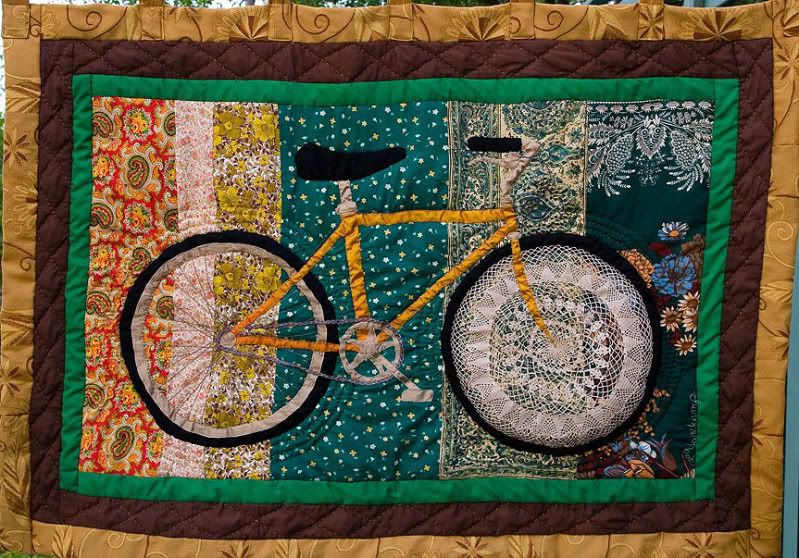 Great use of the still mysteriously hip doily!
Matte Stephens (blogosphere favorite) has a fox on a bike in his
etsy shop.
The
printmakers on etsy
seem to be all over the bike trend.
Strawberryluna has
Going To See My Baby Blue
, a whimsical 5-colour screenprint 15.5 x22 inches (39.4 cm x 55.9 cm) in
her shop.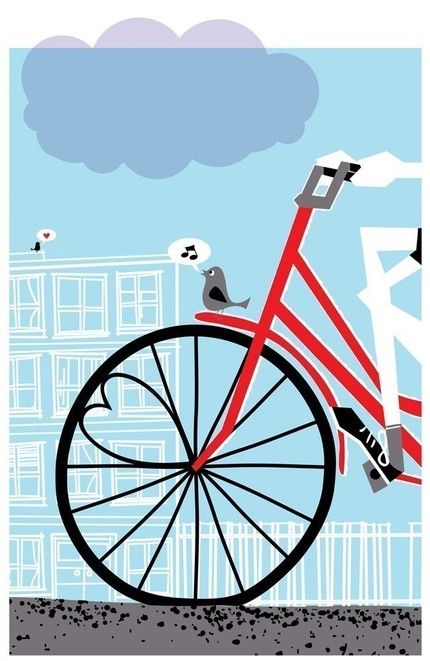 ScreamPrinting
has
Biking in the Desert
(on sale today):
Check out this adorable copperplate etching by
Dana Lo
: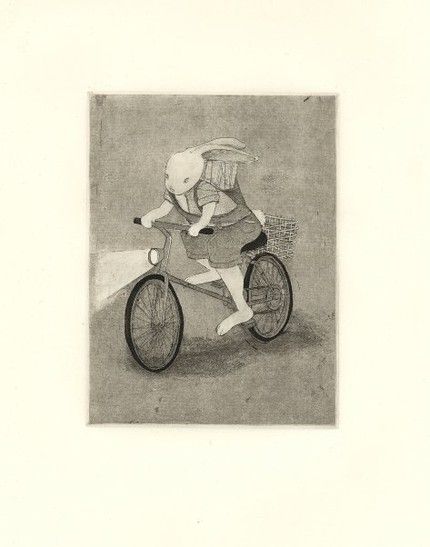 Bunny on a Bicycle
Image size w/o borders: 4.5" x 6"
Print w/ borders: 11" x 12"
redhydrant
has a variety of skeletons-on-bikes in the day of the dead series, like this one: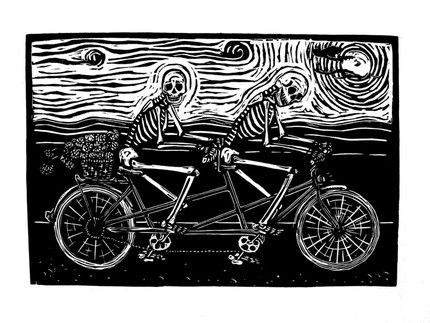 Los bicicleteros
image dimensions: 9.75" x 6.25"
Paper dimensions: 12.5" x 9.75"
I love both prints by
VROOOOOM
called
Why are those animals on a bike
(offered as a set):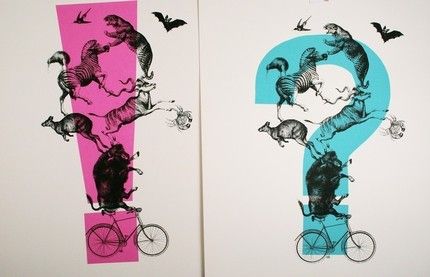 You know, a search on etsy of "bike art" got
66 pages of stuff...
so there is a lot more out there if you would like to explore. There are tandem bikes, penny farthings & tricycles. There are monkeys on bikes, robots on bikes, dogs on bikes, fish on bicycles (of course) and even people on bikes. There is even a shop called
bicyclepaintings
.
Do check out

screensnspokes:

a stable of printmakers producing bicycle screenprints for a cause! All proceeds go end the devastating effects of Multiple Sclerosis.

Here are some of my favorites (but there are many more):
6 Color Screenprint - 25 5/8x33 3/8 - Signed and Numbered by Jay Ryan, the founding member of Chicago printshop The Bird Machine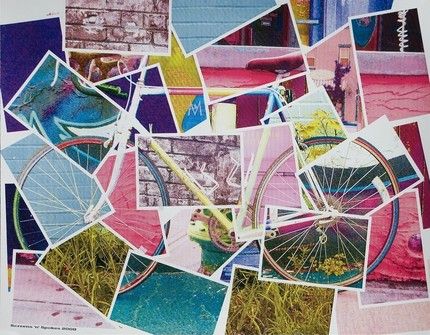 4 Color CMYK Screenprint - 18"x24" by
The Half and Half (Sara Thomas and Nick Wilson)
.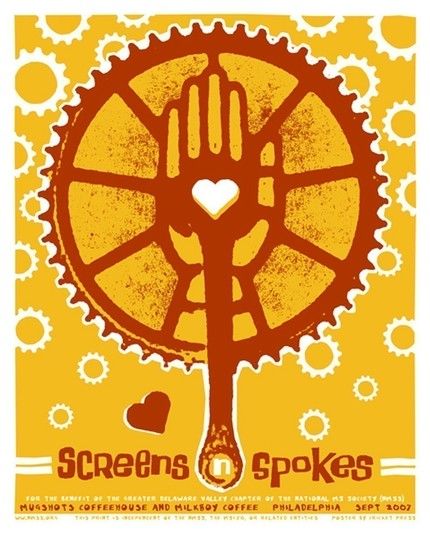 2 Color Screenprint - 16x20 - Signed and Numbered Edition of 65
by Brian & Sara Turner (
Cricket Press
).
Also on the subject of bikes and art and charity, last week in Calgary,
Right On Track
auctioned off ten one of a kind, artist created track bicycle frames to support
right to play
, which is just awesome.