A little CanCon for you, Gentle Reader - today is all about the oft neglected Canadian History. Sometimes Canucks look south and worry that patriotism is somehow unseemly, but in honour of the upcoming Victoria Day (commonly known as May 2-4, after the 24-pack of beer) long weekend, today I am celebrating artists who love Canadian history.
Last week I went to the OCAD grad show, here in Toronto, and I was tickled by the work of
Andrew Hutchinson
. His large scale 3.5' by 5.5' (or in good Canadian metric: 1.07 m by 1.68 m) encaustic (wax) paintings on pine and maple are iconic and ironic.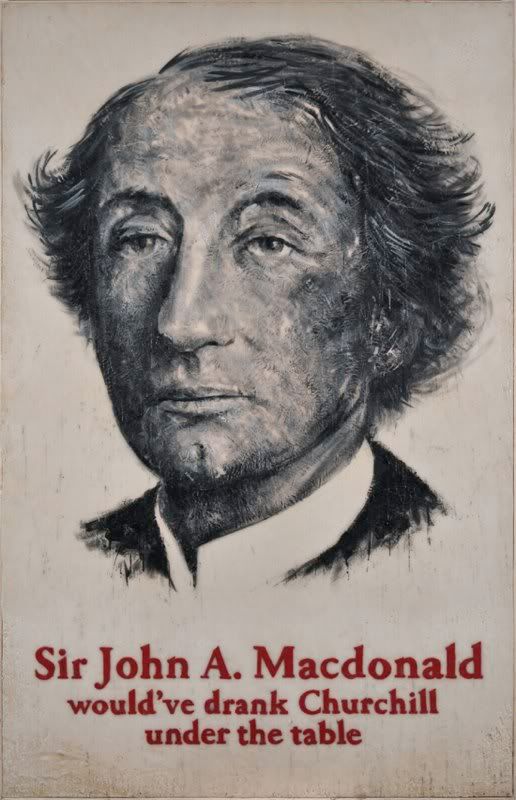 He writes, "Canadian history is a little like an attic. Sometimes it's forgotten, but when you enter it you quickly realize that it is filled with wild and fantastic stuff. [...] The work recontextualizes the subject matter into a museological play designed to promote discussion on the subject of the Canadian 'character'"
Unable to identify any of these characters? Well now is your chance to look them up! Though their portraits are black and white, their stories are anything but. Even such a simple-minded but nonetheless usually effective search as going to wikipedia will tell you about the pride of Victoria, B.C., artist and author (& apparently potter & dog breeder & boarding house landlady),
Emily Carr
, which will lead invariably to the
Group of Seven
and
Tom Thomson
(who last canoe trip lead mysteriously to his death).
The more you read about Métis leader
Louis Riel
the more fascinating it gets. The by-line
Canada's 'Ché' Guevara
is only somewhat tongue-in-cheek: participating in the formation of Manitoba (maps unto Pan-Americanism south of the equator), heading two rebellions (Ché had many), being elected to Parliament, being a fugitive, being executed, being controversial and yet a folk hero to some. Reading up on Riel will lead us to Canada´s first Prime Minister
Sir John A. MacDonald
; we are proud of our first PM, but every schoolkid knows he would´ve drunk Churchill under the table.
The biography of
Josiah Henson
who escaped slavery via the underground railway to Upper Canada, inspired Stowe´s
Uncle Tom´s Cabin
.
Local hero
Sir Sandford Fleming
was an engineer most
famous for inventing time zones
.* His work with the railways made it obvious to him, if no one else, that standard time was a necessity.
You have to love a country whose national animal is the beaver.
Of course, you could always learn your Canadian history from
Canadian web-comic artist Kate Beaton
. She just won the
Doug Wright Award
. I bought her book at last week´s Toronto Comic Arts Festival. (She write and draws about European, American and her personal history and other things too). I love the point she makes that as Canadians, it is not that we are not patriotic so much as the fact that we do not take ourselves too seriously. We laugh at ourselves and our leaders, and hence it is okay if they (even our first one) are human (a trait we could contrast with our neighbours who seem to prefer lionization to poking fun):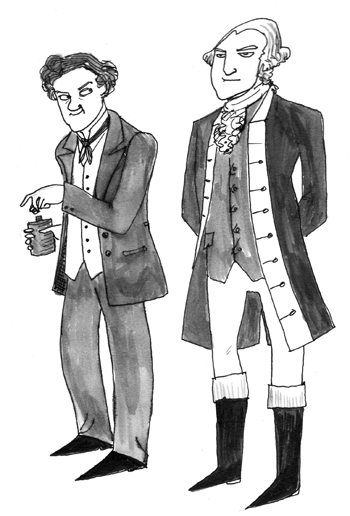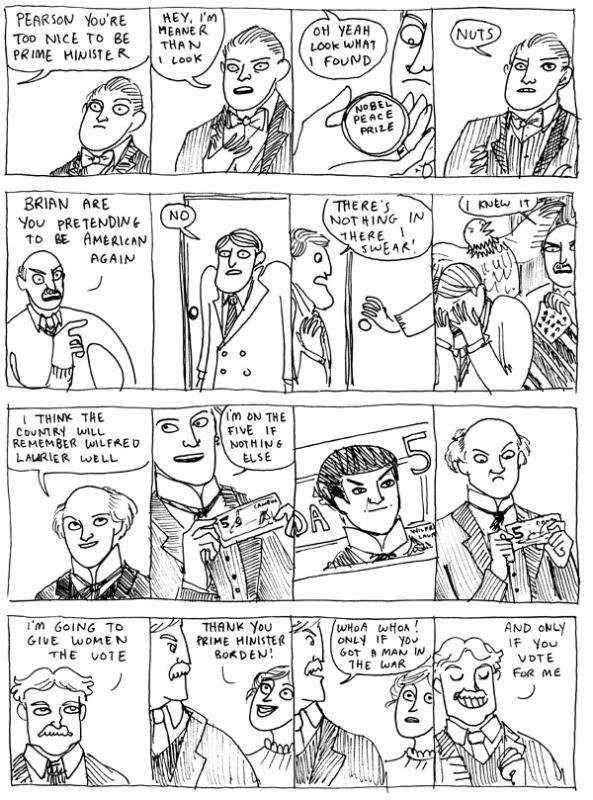 (in case you can not identify any
Prime Ministers
- check the list).
Sometimes Canadians forget their revolutionaries. If you want a good yarn, look up some of the journalists/politicians/reformers/erstwhile revolutionaries of nineteenth century Toronto, including our first mayor,
William Lyon Mackenzie
(grandfather of
William Lyon Mackenzie King
, who deserves a post of his own, in the category of COLOURFUL Canadian Politics) and reform newspaper founder
George Brown
(shown here with political nemesis Sir John A.):
I leave with this poem by
Dennis Lee
:

1838
The Compact sat in parliament
To legalize their fun.
And now they're hanging Sammy Lount
And Captain Anderson
And if the catch Mackenzie
They will string him in the rain.
And England will erase us if
Mackenzie comes again.

The Bishop has a paper
That says he owns our land.
The Bishop has a Bible too
That says our souls are damned.
Mackenzie had a printing press.
It's soaking in the Bay.
And who will spike the Bishop till
Mackenzie comes again?

The British want the country
For the Empire and the view.
The Yankees want the country for
A yankee barbecue.
The Compact want the country
For their merrie green domain.
They'll all play finders-keepers till
Mackenzie comes again.

Mackenzie was a crazy man,
He wore his wig askew.
He donned three bulky overcoats
In case the bullets flew.
Mackenzie talked of fighting
While the fight went down the drain.
But who will speak for Canada?
Mackenzie, come again!
Nobody writes poetry about Canadian history which I would rather read, though I must say, it seems that Mackenzie did end up in the Yankee BBQ camp, so is yet another of the not-black-and-white, but all the more fascinating figures from our history.
The title of the post is a quotation from the well-respected intellectual, polymath, author, historian and broadcaster,
Pierre Berton
.
*Did you know the
Historica Minutes are on-line?
What a hoot!