I
wrote previously
about my favorite book which I've never seen in person (or, should I say, in analogue form), the
Codex Seraphinianius
, by written and illustrated by Italian architect Luigi Serafini from 1976 to 1978. It's a visual encyclopedia, of a foreign, paradoxical yet familiar, world, complete with its own language and obscure meanings. Today, I bring you more art which reminds me of this particular brand of marvelousness; personal wonderland
wunderkammer
.
English artist and illustrator
Ellis Nadler
describes his "pictures as key frames or storyboards for some sort of bizarre movie. Or perhaps as stage sets for an opera I shall write some day." The "Scenes from the Speonk Archipelago" (one of which appears above) and gloriously mysterious and surreal Tarot-like 'Cards of Wu' in particular, make me think of Serafini. Do yourself a favour and
peruse his portfolio!
from "Scenes from the Speonk Archipelago"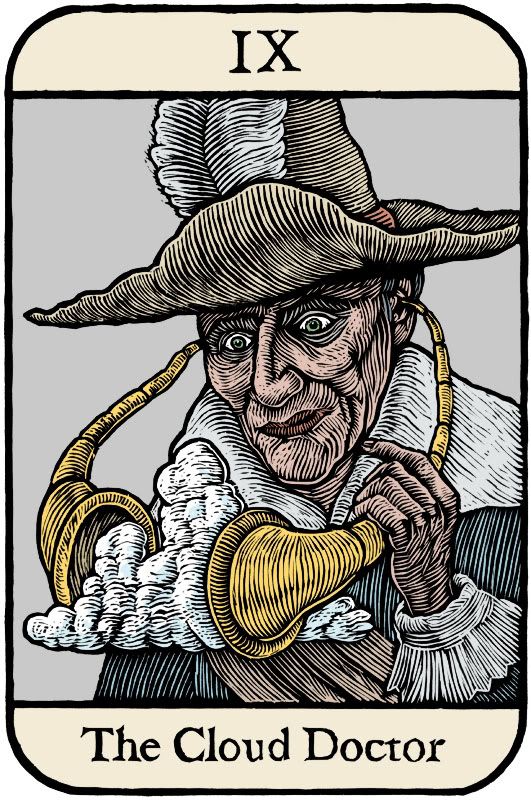 from "The Cards of Wu"
from "War"
Finland-based
Vladimir Stankovic
also creates bizzare, otherwordly
wunderkammer
(see in particular his
Biophilia
set), strange yet somehow familiar characters and a sort of personal mythology.
Beautiful feeling
The Mushroom Princess
Underneath the Reflection - Her Majesty
The Cursed Forest
Local Toronto favorite, illustrator
Nicholas Di Genova
(currently being exhibited at Galerie Dukan Hourdequin, Paris, but often found here in Toronto at Magic Pony or Narwhal) has invented this incredible, detailed, pseudo-scientific diagram style of illustration, complete with his own imaginary wunderkammer of composite creatures and seemingly obessive compulsive sets of flora and fauna - which has to be seen to be understood. He's quite prolific, so you should
expect to spend some time at his site
. Consider 'Angler Tortoise', 'Chluthu Toad' and '211 Herbivores' below, but do visit his site for a better look!